Survivor
equipable skills (survivor)
exp gaining (survivor)

only killing, no gems
show more
graphics
Theme

sci-fi
graphic style

pixel art
show more
Roguelike
artifact/relic system
show more
Casual RPG
Visible gear changes
equipement system

advanced
permanent upgrade system

random stat/boost purchase
show more
controls
Controller support
show more
details
release date

22 Jul 2022
show more
technical
sign in methods (Android)

Google, Guest / none
show more
equipable skills (survivor)
Description
Project Clean Earth is an interesting casual roguelike combining 2 big recent trends - Archero-like and survivor genres. It tells the story of a little robot sent to cleanse contaminated earth from rampaging mutants - but the story here is just a nice little addition.
The game uses a relatively simple yet clean and tidy pixel-art style. As usual in this type of game, backgrounds aren't terribly important, as they won't block your move or anything (well, almost). The tiny, repetitive patterns might seem flat, but they're doing a great job of not distracting you too much from ongoing action. At the same time, the main character and enemies use similarily little amounts of pixels and surprisingly smooth, convincing animations. Huge eyeballs rushing toward you are as scary as other formless monsters with giant teeth. On the other hand, your little robot looks far less dangerous, but he's loaded with weapons depending on the game's progress, which is nice.
The menus/buttons mostly use detailed, stylized pixel art, although there are exceptions - including skill icons and... confetti.
The gameplay is basically a survivor-type one, with some additional features and a general casual approach. Battles are split into 10 waves you'll need to survive in order to fight the big boss - and then get away with the loot. While killing enemies, your robot will level up (no exp gems to collect here), getting one new/upgraded skill each time. One of the key differences from other survivor titles is that the game arena is limited - you cannot run forever in one direction. Another intriguing feature is the artifacts/events system. From time to time, you'll spot a chest with a unique object that can boost some stats - but it can also lower others. Moreover, you'll also spot some debris with a short textual event - your answer/reaction would determine your bonus/perk.
Another unlikely feature of the survivor titles is the skill equipment system. Abilities (or rather weapons/systems) you'll be getting won't be totally random - each time, they'll be taken from the pool selected before the match. It works somehow like equipment in Archero and alike - with leveling, upgrades, etc. Other familiar features are a random stat purchase system or equipable pets - up to 3 drones.
As always, you'll be able to watch an ad for a free revive if you get killed. There are also multiple packages & gacha chests to get stronger quickly.
Last update: game added to overtap: 2 Oct 2022 14:10
No updates seen yet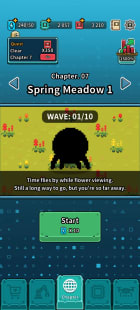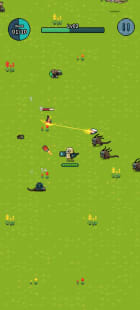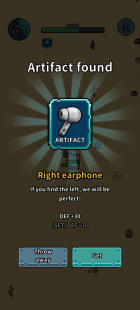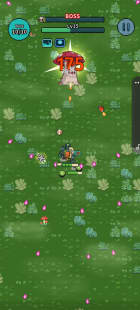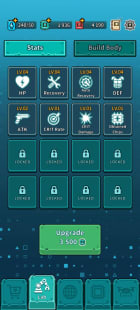 Resources
Shared by others