graphics
Theme

sci-fi
graphic style

pixel art
camera

isometric
show more
gameplay
bluetooth PVP
hot-seat PVP
show more
RPG
pre-battle setting

none
battle stats overview
show more
technical
FPS selection
show more
monetization
ads amount

many ads
show more
controls
orientation

horizontal
show more
details
release date

22 Aug 2022
show more
Description
Psychic Idle is an intriguing, sci-fi, fully-idle mobile RPG. While many such games seem ashamed of auto-control and try to reduce it somehow, this one states very clearly that you can continue the core journey without moving a finger.
Most of the time, you'll be watching a 2d pixelated show of a tiny character using explosions, lasers, fire, etc., to obliterate tens of enemies at once. The graphic here is pretty standard, with all the effects and smooth damage numbers - just enough to be pleasant. Enemies are also typical - some slimes, bandits, golems/robots, etc. - they won't live long anyway. The "decor" section is a nice touch here - an extensive collection of purchasable cosmetics - heads, garments, wings, etc., for your character. It ranges from new hairstyles or cool glasses to a giant bunny hat or fabulous nine-tail. Plus, a few high-quality large character arts are lovely.
The game plays by itself, but of course, there's more to it. Killed enemies will drop multiple resources - starting with ordinary gold coins. Other items could be only gained by making quick side trips to dungeons. They can be spent on various upgrades - as they're needed to face challenging enemies ahead. You'll be able to level up, research monsters, "enlighten" yourself, or even do a "quantum jump".
At the same time, a separate set of upgrade methods are based on "summoning" - a well-known gacha system. Unlike many other titles, you won't draw any additional heroes/pets here, but rather a piece of different equipment, drones, or even superpowers. Each of many summoning types got own counters, levels, and rewards, and each can be easily used in bulk/auto. That means lots of drawing - and fortunately, required premium currency is relatively abundant here. You'll get it for many quests, watching ads, and even some just by being offline!
Ads here aren't bothersome - but for optimal progress, you'll need to watch some regularly. This can be avoided by getting ad-removal from the shop - where you can also get packs, currencies, and cosmetics.
Last update: game added to overtap: 16 Nov 2022 17:11
No updates seen yet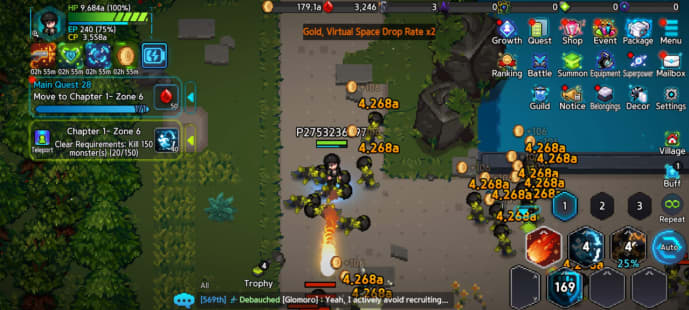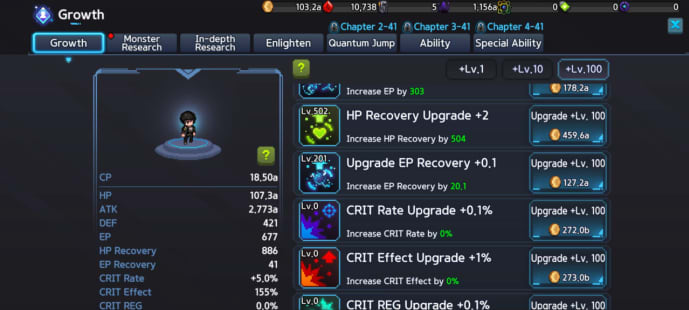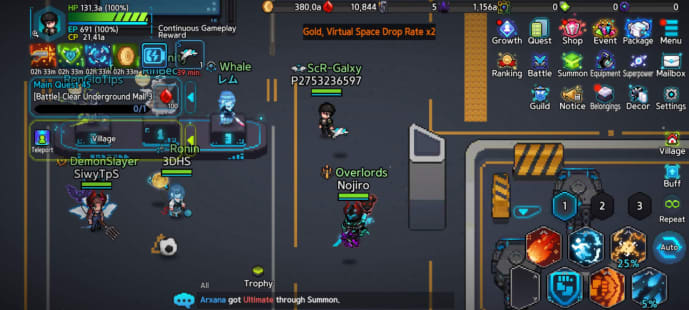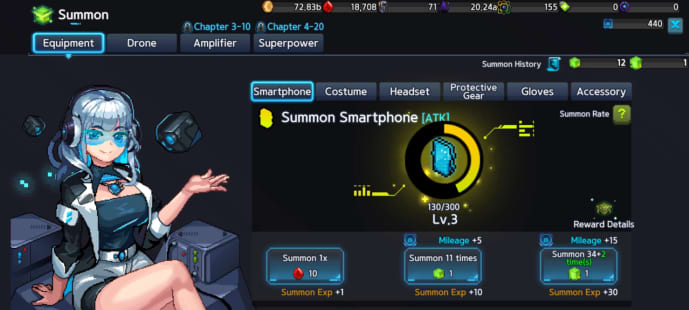 Resources
Main
Shared by others