PunBall
Developer
Gorilla Game Studio
graphics
Theme

fantasy
perspective

2.5d
camera

isometric
graphic style

stylized
show more
Casual RPG
permanent upgrade system

linear stat purchase
Visible gear changes
show more
monetization
ads amount

many ads
gacha / chests
show more
Roguelike
multiple heroes
show more
details
release date

4 Nov 2021
show more
gameplay
online leaderboard
show more
Description
PunBall is a new title from developers of famous casual roguelike shooter - Archero. This time we'll get the same, well-known interface - but even more casual game mechanics.
Instead of running and shooting enemies on each stop, you'll be precisely firing bullets at enemies, slowly closing in. That's some mix between Archero, Breakout, and Space Invaders - but turn-based. You'll have a chance to shoot - bouncing from every space, then enemies will make a step forward, and new ones will appear. They'll get stronger and stronger, and eventually big boss will emerge. Fortunately, as in every roguelike, you'll get power-ups as the game run progresses. That could be new balls, more HP, special shoots, or skills cast after combo amount.
After the battle, this game will use an approach almost identical to most run-or-shoot titles. Get gear from runs/chests, put them on, merge or upgrade existing ones. Permanent upgrades screen will look slightly different - instead of random perks, you'll buy them from a linear list/branch.
The game looks similar to Archero - colorful, vivid, with not too many details, chibi characters, and cute enemies. Yet, here monsters will be strictly bound to board gid - and they're 2d / semi-isometric. Basically, you'll be fighting with adorable blocks with eyes - skeletons, spiders, or just colored blobs. You'll also see your hero at the bottom of the screen - usually facing away - but what happens after this hero shoots is more critical. Bullets fly smoothly, even with tens of them visible simultaneously. It's delightful to watch a good shoot bouncing hundreds of times, casting tens of skills, and defeating those squared monsters. At the same time, UI is very simple but clean and readable - precisely what you might expect from this type of game.
This game won't show any ads without warning - and existing ones shouldn't be bothersome during a run. You'll get a chance to watch some videos for a few additional rewards - or purchase some chest. Also, there's a season pass system with a premium pass option.
Last update: 12 Aug 2022 05:08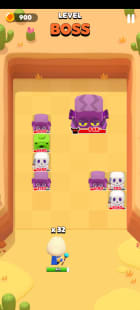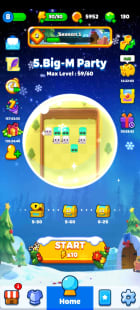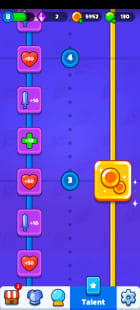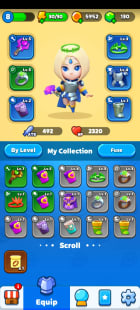 Resources
Main
Shared by others