gameplay
leagues
PVP focused
show more
graphics
Theme

fantasy
graphic style

illustrative
camera

isometric
show more
RPG
battle mechanics

puzzle
autoplay

no
show more
monetization
chest opening waiting period
ads amount

little ads
show more
details
Permissions count

7
App size (memory used)

377
show more
Description
Puzzle Brawl is a fantasy-themed match-3 puzzle PvP/duel. You'll be able to fight a series of battles using a team of heroes you draw from chests & power-up.
Those heroes are the central part of game aesthetics, appearing prominently both on menus and during matches. While some might expect animated 2d art in recent titles, the character design is more than satisfactory. The fantasy theme combined with mechanic/steampunk elements fits well with vibrant, expressive hero art. Sad, angry demons, cunning mechanicians, dense fighters, or flirty pirates - available in a whole range of races. Too bad there's no voice acting for them.
The rest of the graphics fit well, with some special effects and energetic, fresh UI.
PvP matches are played without real-time competition. Instead, we draw random player and fight against the defense team in up to 5v5 game. The board is shared between players taking turns, so it's crucial to think ahead. As usual, making matches from more than 3 blocks creates some powerful tile, yet here, this could quickly turn against you. Tiles are split into 5 essential elements, and the colors you match matter in several ways. You can attack only with colors of heroes you own, and those matches fill skill gauges for respective heroes. With those bars filled, before each move, you have a chance of casting a spell - and there are also passive ones. On top of that, you need to keep an eye on matched tiles position for your attack to hit the right enemy.
Building and strengthening your team is crucial here, and fortunately, there are multiple ways to do this - both paid and free. The most basic one is the chest opening system - after winning a match, you're awarded a crate that needs at least a few hours to open. Some chests are just awarded after some time, and there's a standard battle pass system. Yet, on top of that, you can use some great quest and challenge systems rewards. Both are based on random tasks, but the latter comes with a live online leaderboard. Also, for social interactions - there's a guild system with card requests.
Puzzle Brawl is free and won't flood you with ads (unless you're really impatient with chests). Instead, you can purchase some premium currency, gacha chests, or premium battle pass.
Last update: 15 Aug 2022 01:08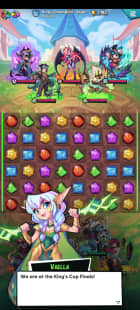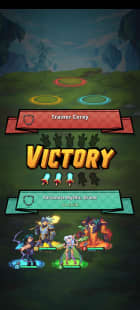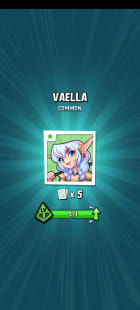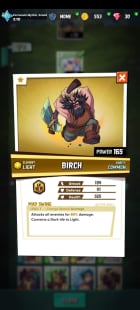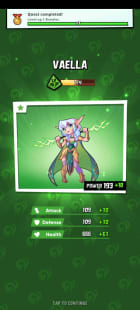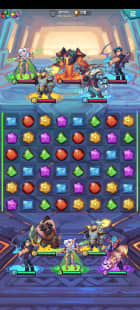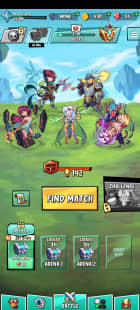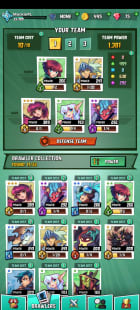 Resources
Shared by others