graphics
Theme

fantasy
graphic style

stylized
camera

isometric
show more
monetization
ads amount

many ads
show more
social
obtainable emoji
guilds
show more
Tower Defense
tower types

42
show more
details
release date

16 Sep 2020
show more
gameplay
leagues
online events
show more
controls
orientation

vertical
show more
Description
Random Card Defense is an engaging, fantasy-themed mobile game. Despite the name and presence of actual cards, it's more Tower Defense than a deck-building title.
The "card" aspect is most important when it comes to graphics. Giving up small, repeated characters in favor of illustrated rectangles brings much clarity to the play. Guns, bombs, spells, or monsters are neatly drawn with a stylized fantasy feel. 2D board fits well with cards put on board, and thanks to VFX, things are not too static. Overall, UI feels clean and polished.
Random Card Defense is a typical example of a "random defense" subgenre in gameplay. You randomly summon cards/towers to fill a 5x3 board and shoot incoming monsters. This summoning costs an increasing amount of points gained through killing those monsters. As enemies become more powerful, you'll need to merge those cards to increase grade, upgrade all of the given types, or use your hero skill. From time to time, the boss will replace minions to offer some variety. The little innovation here is that some board slots are randomly selected for power-ups, along with a boss draw.
As usual, there are 2 play modes - Versus and Co-op. The first one is about PvP competition in killing enemies efficiently, while the latter is defending the same gate.
Unsurprisingly, your main goal outside the match is improving and expanding your card collection. To use some fun combinations, you'll need more types of units, split into rarity colors. Then, you'll need duplicates to enhance existing ones, improving stats like attack strength or speed. There are multiple ways to get those cards - including daily quests, season pass or playing co-op/party mode.
Obviously, one of the easiest ways to polish your collection is to go to the premium store. There are also many reward ads for various gains, but fortunately, none of them are forced.
Last update: 3 Sep 2022 07:09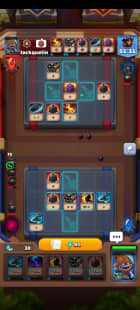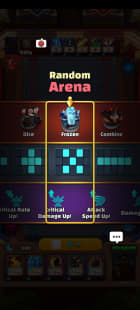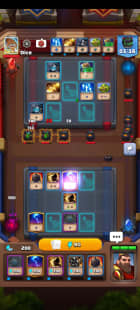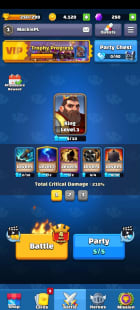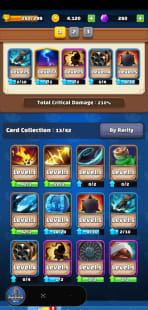 Resources
Main
Shared by others