graphics
Theme

other / mixed/ none
graphic style

other
show more
controls
orientation

horizontal
show more
Tower Defense
tower types

77
idle income

no
send on mission
show more
technical
server / region selection
FPS selection
sign in methods (Android)

Google, Guest / none
show more
Tower Defense, Strategy
autoplay

no
social
clan wars
show more
Description
Random Dice: Defense is one of many random defense titles released in recent years. This one lacks cute characters or terrifying monsters, but it has some nice features and a dedicated community instead.
As you can guess from the title, the game - at least visually - revolves around... dices. The usual 5x3 board will be filled with just square shapes with a certain number of dots. You can quickly tell them apart by the color, outline, and pattern - e.g., green ivy or yellow bolts. Some are slightly animated, but overall it's pretty simple 2d - and the same applies to (most) enemies and special effects. Your foes will be just black blocks of different shapes, and your shoots will be just colored dots - although bosses look somehow like actual monsters. At the same time, the game offers a surprisingly wide choice of lovely, detailed 2d boards - from ancient ones, steampunk, and child drawings to the disco theme. The Ui is relatively standard for the genre, with simple buttons/elements and an excellent starry/cosmic background.
If you expect any dice-rolling action here, that will not happen (but there's still plenty of randomness). At the beginning of a match, you'll need to fill your board with dices/towers - random ones from your deck, always starting with 1 dot. There are only 2 more things you can do - merge 2 units of the same type/dots to get a better one with a random type - or upgrade a type.
The dices will begin auto-shooting enemies running around - hopefully preventing them from reaching an end. In versus mode, you'll need to survive longer than your opponent, and in co-op, you'll defend a common path.
Obviously, your deck composition here will be of enormous importance. Basic towers will just use some basic effects - like faster fire rate, splash, or poison. On the other hand, when you get access to the best ones, a lot of deck compositions/synergies will be unlocked. Some will affect your 5x3 board, install/throw things onto the monster line, while others may even harass your opponent directly. It's worth mentioning that Random Dice has an "Arcade" section with some less-frequent challenges (like solo mode), a clan system (with special types of matches), and online events.
Monetization here means mainly tonnes of packages with random cards - and few ads for boosting rewards. You can also get one of many premium passes - not only season one.
Last update: game added to overtap: 4 Oct 2022 19:10
No updates seen yet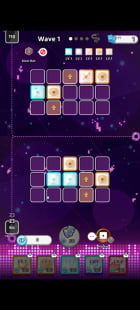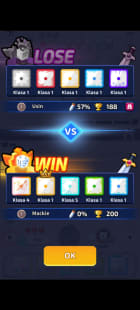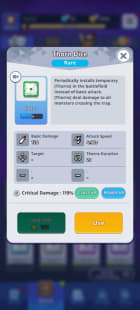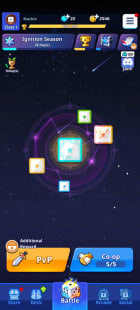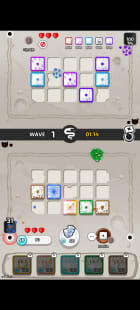 Resources
Main
Shared by others