graphics
Theme

marine
camera

isometric
graphic style

2d vector
fully animated 2d characters
perspective

2d
show more
Adventure
collection system
monetization
ads amount

little ads
gacha / chests
show more
details
release date

26 Aug 2021
show more
controls
orientation

vertical
gameplay
playable offline
show more
Description
Sliding Seas is an indie match-3 adventure game about saving survivors lost in the sea.
Unlike many recent titles, there isn't any detailed 2d art or beautiful 3d environment. Instead, the most essential aspect - the survivors - are just big-headed figures combined from several simple shapes - just like something drawn by a kid. Yet, the same thick-lined simple aesthetics is used for a whole, square-tiled environment. Using several nice colors and seamlessly joined pieces, the board can be pretty enjoyable to watch. You might also want to turn on lively background music to make things even better, bringing back some holiday cruise memories. Also, although combined with simple pieces, it's nice to see your home island growing.
The game plays like any match-3 puzzle - merge 3 elements to get one of a better grade. Those grades are ground levels - grom deep sea, through the beach, to the mountains. As you might guess, to save survivors, their tiles need to be merged to get any safe land - and then combined to max (or 4-merged) to get shelter. You need to do this in a limited amount of turns, and every person in need got their own endurance and can survive only for some time without help. If you fail to help even a single survivor - the game is lost - as with lack of turn - but your retry chances refill over time.
Merging like this is already quite fun, but with game progress, new features are unlocked. You may need to break obstacles by connecting tiles next to them. Whirlwinds and volcanoes are affecting the board, and sometimes to goal isn't just sheltering people. On top of this, you might want to make things a little easier by using one of the active skills, like rocket-striking chests & coral reefs.
After a successful mission, saved people join your island, turning a small piece of land into a thriving town. Some VIP residents will give you special assignments, and finding valuables will improve customization options.
Sliding Seas is a free game, and it can be enjoyed without spending a penny or watching an ad. There's a premium currency, but it's regularly earned during gameplay, and you can get bonus diamonds after watching a few videos.
Last update: 11 Aug 2022 01:08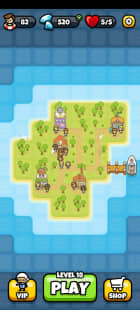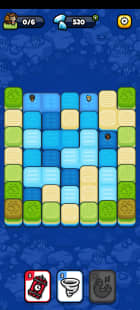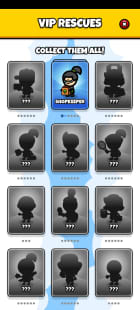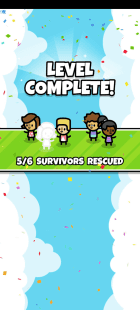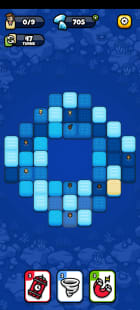 Resources
Shared by others