Casual sim
single limited storage
world layout

custom
show more
graphics
Theme

space
graphic style

lowpoly
show more
monetization
gacha / chests
ads amount

tons of ads
premium currency
forced ads
show more
details
Permissions count

9
show more
technical
graphics quality selection
show more
gameplay
walkable lobby
online events
show more
graphics quality selection
Description
Space Rover: Planet mining is a simple casual simulation game in a space-exploration setting.
The game uses low-poly 3d graphics - nothing fancy, but it fits the theme well. Most of the time, you'll be seeing your rover - a relatively simple machine - but all the moving parts make it pleasant to watch. Your targets will be some strange, floating minerals - effectively a bunch of single-color angular objects. Also, harvesting them is just a "beam" or two, looking just like a straight line drawn on the screen.
UI isn't that vital part of this genre, as most things just happen with moving. Still, the interface here looks pretty rough - while trying to be "spacy".
Gameplay is simple - you need to get near some resources, wait a while to get gem's "hp" to 0, and then move to another one. The only surprise is that those minerals magically move around, slowly running from you, making idle play much more difficult/unprofitable. After a while, your capacity will be full, forcing you to drive back to base, sell everything and then repeat. The only thing that can get in your way - other than gems running away - are rocks falling from the sky, reducing your HP.
Those things quickly get grindy - but there are some ways to power up and speed things up. You can spend hard-earned money on some essential upgrades, like laser power, lasers count, or rover speed. Then, there are artifacts - strange balls you can sometimes collect and then spend on extra perks, like earnings multiplier. To get some upgrade possibilities - and a bit of idle earnings - you can spend gold & develop your base. That will also require come colors of gems and yield some other gems.
The progress here might still be slow, and unfortunately, the best way to speed it up is to watch tonnes of ads. To get lots of money, resources, artifacts, some premium currency - just wait a few seconds, and an ad offer will appear. What's worse, sometimes you'll get an "offer" you cannot reject, and there are banner ads visible all the time at the bottom.
That could be somehow avoided with subscription - or other purchases.
Last update: 15 Aug 2022 18:08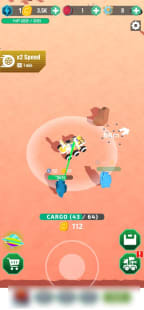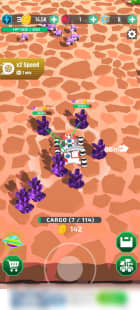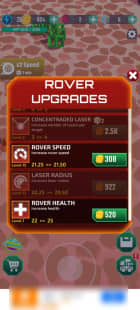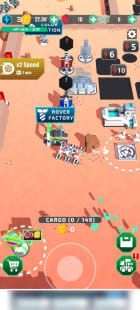 Resources
Shared by others