Hero Collector
hero story (text)
show more
graphics
Theme

science fantasy
camera

isometric
graphic style

2d outlined vector
show more
RPG
max game speed

4
pre-battle setting

simple
show more
technical
sign in methods (Android)

Google, Facebook, Guest / none, Other account
FPS selection
show more
social
manual emoji
show more
controls
orientation

vertical
show more
details
release date

13 Sep 2021
show more
sign in methods (Android)
Google, Facebook, Guest / none, Other account
Description
TapTap Universe is a mobile gacha idle RPG set in the science-fantasy world. Playing the game, you can expect the same experiences as usual - just the magic got replaced by magical technology.
This change is the most distinctive aspect of 2d graphics here. Your heroes - the bread and butter of gacha RPGs - will mostly use some modern gears - guns, vehicles, even tablets or drones. Split into several fractions, you'll be able to obtain a whole range of characters - western-ish cowboy, military rabbit girl, super-modern shiny fighters, or singing punks. This kind of approach to sci-fi, where there's still a place for traditional methods, points at some Overwatch inspirations.
At the same time, both heroes, environments, and all the rest are crafted with all quality standards. Heroes are smoothly animated, nicely voiced, and some even come with additional enlivened quality art. The skills they're casting in fights are impressive, easily covering half of the screen with flames, thunder, or other magical powers. Backgrounds are stylish and detailed, sometimes with a parallax effect, and menus are nicely stylized.
The core gameplay is just like in any other idle RPG. You watch your heroes fighting all the time, piling gold & loot whenever you're online or offline. Just click "challenge" to start a fight when you're ready, hopefully getting to a new stage and increasing gains (that can be automated only for VIPs). To keep winning, you'll need to power up your heroes regularly. There's a usual "upgrade" button, mainly using gold and standard resources, and you can evolve your fighters to increase quality. You can also gear them up, upgrade those items, unseal unique "ex-gears," or even provide chip power-ups.
To do all these upgrades, you'll need tonnes of resources - and for this, you can use one of many features from the "Adventure" screen. Aside from standard options like PvP, exploration, or journey (roguelike-like) mode - there's also an idle board. Being there, you can tap to roll a dice, move a few tiles around the board & gather a particular item. Such circling can be sped up - but it'll work automatically even if online - until enough enemies block your way.
TapTap Universe is free and, fortunately, also free from ads. Still, it has PvP, a VIP system (although upgradable even without money), and gacha - while not providing extra draws too generously.
Last update: 16 Aug 2022 12:08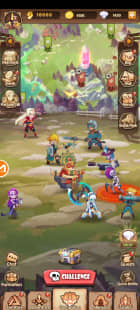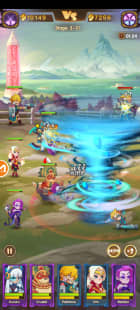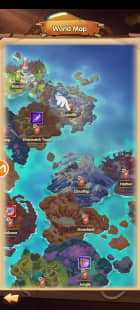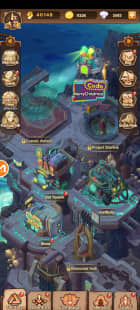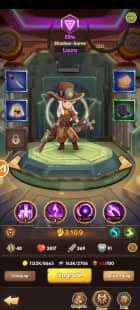 Resources
Main
Shared by others