Clicker
interaction type

swipe
graphics
Theme

fantasy
graphic style

simple 3d
camera

isometric
show more
Idle
offline gains limit

strenght
auto-allocate upgrades
currencies

3
show more
details
release date

6 Apr 2021
App size (memory used)

349
Permissions count

7
show more
monetization
ads amount

many ads
show more
Description
Tiny Worlds is simple yet addictive mobile idle clicker/swiper. Your role will be destroying hundreds of miniature planets composed of a bunch of blocks, and your companions will be tiny dragons.
Having such a repetitive task, a player might want a game that must be somehow pleasant to watch. Tiny Worlds seem to meet this expectation. Cell-shaded, outlined blocks are minimalistic yet stylish. Aside from some low-poly objects on the surface, like cacti in the desert, you can spot gems shining in the depths. Still, the best view is when those little worlds explode part by part, turning into a rain of coins. Your dragons are cute and colorful, but they may look a little repeatable, despite tens of types available.
Tiny Worlds utilizes well-known gameplay mechanics of clicker games. You can invest earned money in swipe power (active play) or dragons (idle play) - or auto-upgrade both. Then you progress as far as possible until you meet a boss - planet core - regenerating faster than you can damage it. Then, there's an ascension - going back to level 1 to earn powerful resources - tesseracts. Those can be used to upgrade runes, giving a range of permanent bonuses, from power-ups to level skip chances.
To give more incentive to reach new levels - aside from discovering new biomes - there's a progress reward /unlockables system. Each 50 or so stages, you'll gain access to a new type of spell or a new race of dragon. Soon, passing hundreds of first tiers won't be any problem for you (or your dragons). The nice thing is that - during this grind - you don't need to assign skills or runes by hand - there's always a button to auto-assign.
Tiny Worlds got some gacha elements - you can pay to draw some dragons, but you can also wait and get those eggs for free. There are also many ads to watch, but it's also possible to enjoy the game without them (or just pay and get rewards anyway).
Last update: 28 Aug 2022 14:08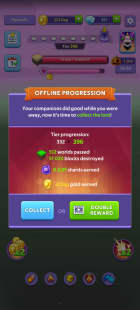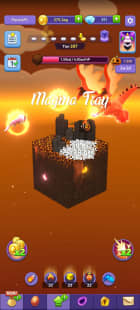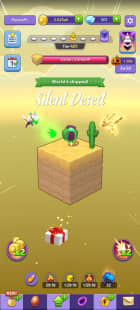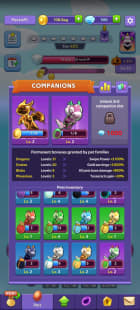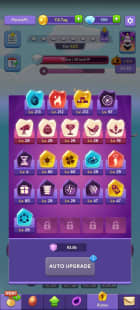 Resources
Main
Shared by others