Tomb Raider Reloaded
Developer
Emerald City Games
graphics
Brand

Tomb Raider
Theme

fantasy
camera

isometric
show more
Casual RPG
permanent upgrade system

collection / relic system
show more
details
release date

25 Mar 2021
App size (memory used)

895
Contant rating

TEEN
show more
technical
sign in methods (Android)

Google, Guest / none
graphics quality selection
show more
Roguelike
multiple heroes
show more
monetization
ads amount

many ads
show more
permanent upgrade system
collection / relic system
Description
Tomb Raider Reloaded is another spin-off of legendary game series about the adventures of archeologist Lara Croft. It uses one of the most common patterns - run-or-shoot (roguelike shooter) - with extra features added.
The most prominent graphical element here is the famous female archeologist herself. The quality is superb for a mobile device, but with some old-school vibes bringing back memories. This comes with limitations - at the current game stage, you can use just this one hero, with one additional skin to unlock. You won't be able to take a close look during battle, but you'll see Lara as it was a shot from the set during some pauses.
The battlefield looks pretty good, with 3d enemies, special effects everywhere, and relatively smooth animation. After the room is cleared, the nice touch is that your character won't just enter the gate but run/jump/climb a dangerous path to pass through. The game UI quality is also way above usual mobile titles, combining old maps look, detailed drawings, and 3d render.
Gameplay is a very usual one in most aspects. Stand still to shoot, move with one finger to avoid danger, then shoot again. When enemies are killed, go to the next room and repeat. In the meantime, you might level up, getting a chance to select one of 3 skills for the run - multishot, increased damage, burning bullets, etc. Some rooms will be guarded by powerful bosses to make things interesting, while in others, you'll be greeted by NPCs offering power-ups. Also, from time to time, you'll enter a special room with a time-limited puzzle challenge for a bonus reward.
After the battle, you'll collect loot, as usual. Then, you can go to equip screen to change gear, reforge or upgrade it. What's interesting is the permanent upgrade system. Instead of purchasing random perks, you'll combine relics from pieces found during adventures and then upgrade them with shards.
Tomb Raider Reloaded won't show forced ads, but reward videos are very common in this type of games. You'll be given plenty of occasions to spend few seconds for extra power-up/reroll/money - or you can just purchase resources / chests.
Last update: 13 Aug 2022 05:08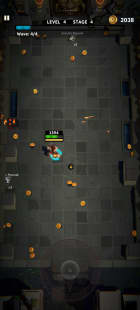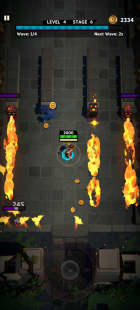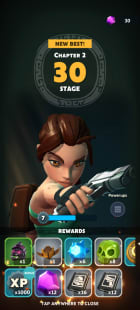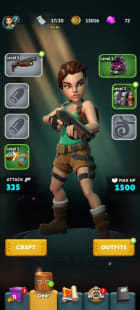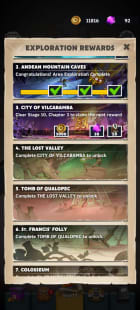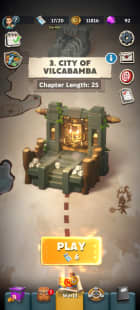 Resources
Main
Shared by others