graphics
Theme

vacation
camera

isometric
graphic style

american cartoon
show more
gameplay
bluetooth PVP
hot-seat PVP
show more
technical
graphics quality selection
low power mode
sign in methods (Android)

Google, Guest / none
show more
details
release date

19 Aug 2022
App size (memory used)

417
show more
Idle
complete quests to advance
show more
complete quests to advance
Description
Vacation Tycoon is a new idle game by Hyper Hippo, developer/publisher of the popular AdVenture series. The recent title shares the same distinctive style, yet the gameplay was greatly simplified.
The unique American-cartoon visuals are definitely one of the key strengths here. Just like in previous games, you can expect a whole bunch of (usually) happy managers. As always, they will be somehow based on well-known, real, or fictional characters - like an angry, demanding chef or young beast-taming girl. Now, they're even slightly animated! All of them (almost all) are appointed to some businesses - like a restaurant or gym. However, those buildings - together with the whole environment - look fine but rather generic. Visitors arriving continuously make the entire scene fairly lively, even though they're simple, tiny figures.
The gameplay here is closer to the Idle Miner than to previous titles from this developer. Instead of several currencies & exchanges, Vacation Tycoon is based mainly on just money. Each business produces a certain amount of dollars in a particular interview - assuming visitors are waiting in queue to pay. Without a manager (of proper level), you'll need to tap before every visitor, but ultimately everything is fully automated. To level up those managers, you'll need cards and a second non-premium currency - gems.
The primary way to obtain them is through progress rewards. At every moment, you're given up to 3 tasks, and completing them - aside from instant chest - contributes to season progress. After finishing the season, you'll be able to start over with slightly changed businesses and a bigger multiplier, but tasks will also be more challenging. That's basically the whole gameplay - aside from occasional tapping managers for minor bonuses, spotting blimps for ad rewards, and tapping frenzy mini-game.
Most of the time, there's some event going on - a separate world with its own progress & quests - but shared managers.
Unfortunately, if you're not willing to pay, there'll be lots of ads on the way. Even worse - some progress quests explicitly force you to watch one - or even get & use premium items from IAS.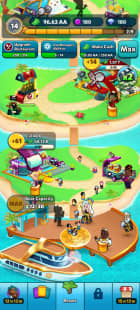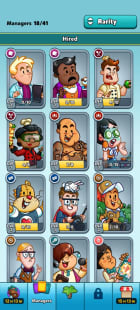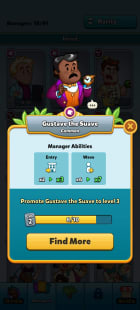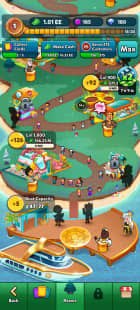 Resources
Main
Shared by others