RPG
battle mechanics

run-or-shoot
autoplay

no
show more
graphics
graphic style

pixel art
Theme

fantasy
camera

isometric
show more
gameplay
walkable lobby
online (PVP)
show more
monetization
ads amount

many ads
show more
controls
orientation

vertical
show more
details
release date

14 Sep 2021
show more
social
in-game text chat
show more
Description
Vamp - Lord of Blood is a cute pixelated RPG with archero-like controls. It tells the story of siblings injured by a terrible dragon incident. After waking up, they've decided to take revenge using vampiric powers.
At the very beginning, after a short introduction describing the story, you're given a simple choice between boy and girl characters. Both are adorable, big-headed, goth-looking kids. That's not much of diversity at first sight, but fortunately, there's a "costume" system in place. After a bit of grinding, your character may look like a bear, bee, or cactus - and that's equally cute.
The whole fantasy world is drawn in a high-quality, pixel-art style. Menus are detailed & clean, environments are charming, and monsters are pretty varied - including gigantic bosses. There are even hand-drawn special effects - projectiles, explosions, and other magical skills, looking pleasant.
Although the game is clearly an RPG, you won't see any form of autoplay. Instead, you'll need to defeat enemies by actively running and avoiding attacks, keeping close enough to attack while standing. The Vamp is split into a series of increasingly more challenging stages, with the boss stage from time to time. Standard rounds will require you to defeat several mobs (and champions) to fight the stage boss. The boss stage is just a massive enemy with a huge HP pool, staying at the top of the screen, performing a series of powerful attacks.
Every round yields some loot, so you can equip better and better items - hopefully, epic/legendary ones. Unwanted ones can be used to extract valuable materials - and the "multi" option is necessary there.
Unsurprisingly for an RPG, you'll earn levels, together with stat & skill points. While the first one is quite obvious, the skills system is where the game shines. You can invest points in one of 15 skills from 3 types or in equipable skill power-ups, creating tons of combinations to play with.
Vamp monetizes in standard yet little-invasive ways. You can watch a series of ads for considerable rewards or pay some money to access premium shop - especially costumes gacha.
Last update: 29 Aug 2022 01:08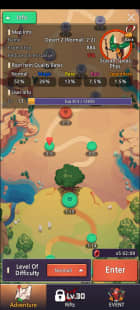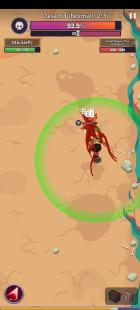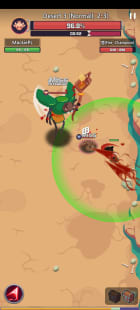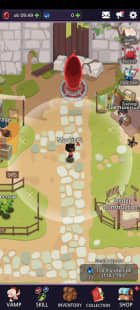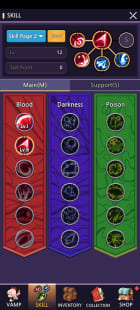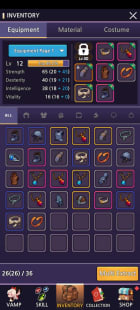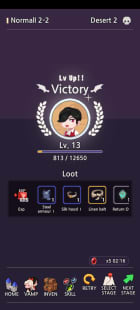 Resources
Main
Shared by others