graphics
Theme

microworld
graphic style

doodle
camera

isometric
show more
Idle
restart mechanics

start fresh in new place / world
observation bonus
merge mechanics
skins / costumes for characters / vehicles
collection system
show more
details
Permissions count

9
App size (memory used)

266
show more
restart mechanics
start fresh in new place / world
Description
Virus Merge is one of many similar mergers by Tapps Games. This time, instead of merging animals, we'll be evolving viruses into higher forms to gradually conquer the planet (and other planets too).
Like other such titles from this developer, "creatures" here are dead simple, drawn using just a few lines and plain colors, in a doodle-like style. Viruses look either cute or silly, sometimes with an innocent face, sometimes with tongue stuck out. The nice part here is the costume system, where you can obtain some crazy hats to put on viruses of a given type, making grinding less boring.
There is usually much motion happening on screen. Microbes are still producing gold, moving here and there, even merging sometimes, and new crates are delivered. The backgrounds and UI are as simple as viruses - a few colors and images you could doodle in your notebook.
The core gameplay is well-known in the subgenre - merge2 same-level species to get higher-level ones. Basic viruses will be continuously delivered in chests (you can mass-open them with swiping). Better ones can be bought with gold (or diamonds). Every few stages, the next level will be so large that you'll need a different perspective (screen) to see it.
After some time, you'll be able to start a new colony on a different planet, with new resources, much harder to obtain. There's also a "Pantheon" world where you can see your unique species - powerful permanent bonuses.
Aside from just merging & buying, there are many other bonuses, power-ups & offers. You'll gather energy for the occasional box with a free random virus. Power-up berries will sometimes appear, and you can also spot "impostors" and point them for rewards. Also, the interplanetary ship will demand specified viruses, rewarding you with rare currency.
Still, most offers involve watching ads to get something - or improve gains. If that wasn't enough, ads appear randomly without asking - especially when switching views. There's also a shop where you can pay to finally get rid of those ads - or get some premium currency.
Last update: 11 Aug 2022 20:08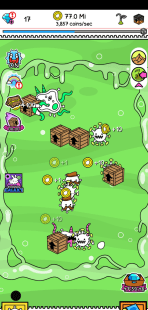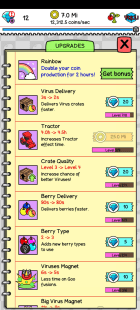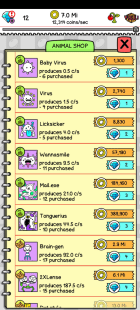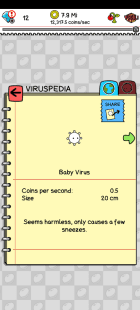 Resources
Shared by others