Run-or-shoot
controls style

run-and-shoot
show more
graphics
Theme

animals
fully animated 2d characters
graphic style

pixel art
perspective

2d
show more
monetization
ads amount

tons of ads
show more
Casual RPG
journey mode
permanent upgrade system

perk purchase system
show more
gameplay
playable offline
show more
details
release date

6 Oct 2021
show more
technical
FPS selection
show more
fully animated 2d characters
Description
Wild Gunner is a gripping pixel-art archero-like shooter with some innovative features. You'll be playing as an armed cat or dog, killing armies of giant flies, hogs, or other hostile critters.
Compared to a plethora of other such shooters, this one stands out with quality, detailed pixel-art graphics. All the elements are sharp and easy to distinguish, colors are vivid, and animations play amazingly smooth, especially when enemies are dying. Those enemies - animals, insects, and other not-specified creatures - deserve a special appreciation. They manage to mix cuteness with creepiness - and little hogs with half-body-length jaws are only the beginning.
The pixel art style is applied consistently throughout the game. Aside from enemies and backgrounds, it's used in all menus with excellent effects. Every piece of fear you collect is a kind of art itself - and wielding such a massive gun as a tiny pet is definitely a pleasant experience.
In terms of gameplay, Wild Gunner follows in the steps of Archero and others - but with a pack of its own ideas. One of the most notable changes is that you can run AND shoot simultaneously here. This makes the action even more intense - as this also implies more mobile enemies. During the rounds, you'll also collect skills - just not after level - but after each fight. Those skills will come with open upgrades system and include many auto-firing abilities. Thre's even a "Conversion Kit" system that could vastly change your weapon play style for the following round - changing AR into LMG or sniper rifle. On top of this, playable heroes will come with a unique active skill to help you when things get intense.
The game is split into chapters (normal & hard), and the chapters are divided into rounds, just like usual. Still, rounds aren't just screen-width areas but complex maps that you'll need to traverse to find & defeat all the enemies. Also, there's a friendly one every few fighting stages - but here it's a whole camp, including a rentable mount that provides powerups.
Outside the matches, Wild Gunner looks similar to many run-or-shoot clones. There's an equipment screen with upgrades, fusion, and character changes/powerups. To get the necessary resources, you can start a run in a special dungeon with special rules. The only unique thing is the permanent upgrade system, but it's simply buying perks from the list.
Unsurprisingly, there are numerous places where you can watch ads for a reward - be it a chest, revive, or mount. Still, you won't waste as much time on those videos as while playing many similar titles. Aside from this, there are also plenty of offers to purchase gacha chests or other items.
Last update: 13 Aug 2022 13:08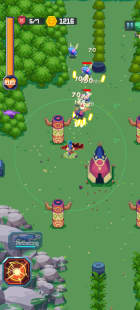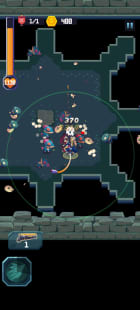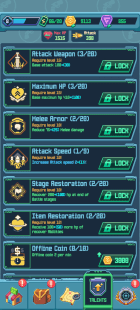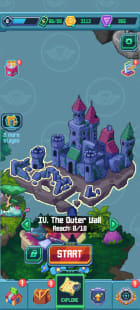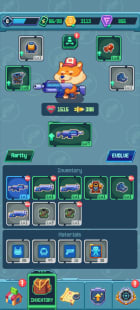 Resources
Shared by others