graphics
Theme

casual
camera

other /none
show more
Idle
currencies

3
max offline time (default)

12
auto-allocate upgrades
skins / costumes for characters / vehicles
offline gains limit

time
observation bonus
show more
technical
PC/console/browser cross-play
show more
monetization
ads amount

tons of ads
show more
details
Permissions count

8
show more
PC/console/browser cross-play
Description
AdVenture Capitalist (AdCap) is a classic, 8-year-old mobile/browser/PC/console game that popularized the idle genre and inspired many similar titles. The game lets you start a financial empire as a beginner entrepreneur. First, you'll need to strenuously tap lemons to make lemonade - until you can hire a manager to do it - and soon, you'll end up owning oil fields.
In terms of aesthetics, you'll probably instantly get this old-school-ish vibe, somewhere between late flash & early smartphone games. Graphical elements are simple vectors, often funnily skewed - and fonts are sometimes crazily un-readable. Business icons got some pretty little animations, offers got old-school badges, and progress bars are running all time. That's some pleasant chaos.
Yet, the fun part here is managers/connections characters. Each planet & event got its own set of managers, amounting to dozens. Although the drawings aren't too detailed (and even blurry), they make up with some ingenious references. From some obvious ones like "Alfredo Hitchpost" or "Darky McGrumpface" to some creative mixes of multiple characters from multiple universes, they covered many shows/games.
The core idea behind the gameplay is pretty simple - wait for business, harvest money with a tap, then wait again. With enough money, you'll be able to unlock a new type of business, upgrade existing ones for better income, or hire a manager to get rid of taps. Another crucial aspect here is selling your company to "Angel Investors" - they serve as ascension currency. You'll need some clever planning here, as every angel brings some bonus, but perks after spending them are lost after the next reset. Aside from this, there are several other features to grow your empire faster - upgrades paid with cash, Accountants, Discount & Upgrade managers to improve UI or connections collection system.
When you're rich enough, you'll be able to scale beyond earth - to the moon and then mars. Also, over the years, the game developers created 15 themed events - like superhero one or music one. They'll let you compete with others and bring valuable rewards to the main game.
Adventure Capitalist is monetized in many ways - starting with ads - bonus during reset, refilling 2x multiplier, quick ad offers, etc. You can also get premium currency for various perks - from time skips to gacha chests.
Last update: 12 Aug 2022 04:08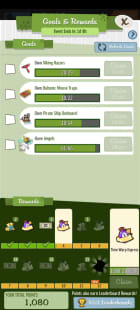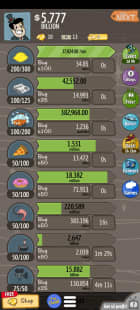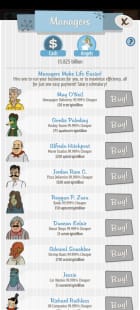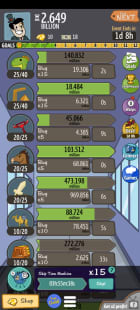 Resources
Main
Shared by others