graphics
Theme

fantasy
camera

isometric
graphic style

illustrative
fully animated 2d characters
show more
social
photo avatar
guilds
show more
monetization
gacha / chests
ads amount

no ads
show more
gameplay
online (PVP)
PVP focused
show more
details
App size (memory used)

1320
show more
Description
Coin Master is a "hyper-casual", hyper-popular adventure/gambling/social mobile game. Due to those qualities - and heavy advertising - it's either hated or loved (and it's generally not favored by hardcore players).
In terms of aesthetics, Coin Master seems to fit its audience - simple, colorful, and cheerful. The main element - villages - are nicely painted with various themes and several levels for each component. You'll not only see monuments getting greater and buildings getting bigger but there'll also be cute characters here and there, including the familiar piglet. Some of the elements are even a little animated.
Overall, the game just feels nice - mainly spinning the wheel, tonnes of coins dropped there, or the effect when you swipe between village and wheel - those little things seem to keep people coming back.
The gameplay is dead simple, requiring almost nothing but luck - and persistence. You just need to click the big button and wait for results from the slot machine. You'll have a limited number of energy (spins), but to make the game even easier - you can long-tap the button for auto-spin. If you're lucky, you'll see 3 of the same icons lined up, meaning some valuable reward. That could be a smaller or larger batch of gold, hammer for attacking enemy (and get gold), pig for stealing from an enemy (again gold), or shield for preventing enemy attack (keeping gold). All this gold is used to upgrade your village - getting elements to higher levels and advancing to the next area. Surely, after a while of play, you'll get access to a few other features - a collection system (cards), a pet system (for some power-ups), and occasional events with some huge rewards. After a while, you'll be able to do multi-bets kind of "quests" and more shields, but at the core - it's all about luck (and energy).
It's worth noting that Coin Master relies heavily on its social aspect - at least in the promotion & visual elements. All those ads showing interactions between players - are basically true. The game tries very hard from the first steps to make you log in with FB. Then, it gets your name & avatar to show it to others and makes you invite your FB friends. Attacks could be directed at your mates, and stealing also targets real persons. You can send cards to others, and there's even a clan system.
Coin Master won't bother with showing ads - it's all about buying energy, as it'll halt your progress pretty fast without invites/purchases.
Last update: 12 Aug 2022 16:08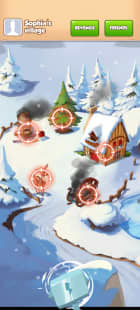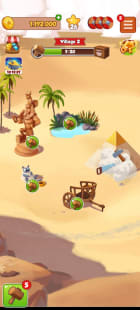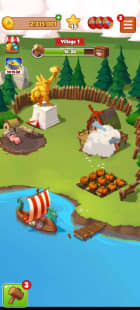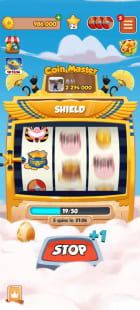 Resources
Main
Shared by others