Casual RPG
stat point allocation
equipement system

basic, no draws
permanent upgrade system

linear stat purchase
show more
graphics
Theme

fantasy
graphic style

pixel art
show more
technical
low power mode
show more
monetization
gacha / chests
show more
controls
Controller support
show more
details
release date

15 Jun 2022
show more
Roguelike
artifact/relic system
show more
gameplay
online leaderboard
show more
Description
Grimnight Heroes: Survivors is an indie pixelated rogue-like with melee focus and an old-school feel.
Fans of 16-bit titles will surely be pleased here. From the first screen, the game consistently uses the low-pixel, low-colors approach. Even the menus look like they were taken straight from NES - blue and black backgrounds, white and yellow texts, and thick outlines.
Your character (and other humanoids) are always shown from the side-front, no matter what they're doing, and animated frame-by-frame. Even the special effects - like the enemy disappearing - are pixel-art animations - and backgrounds are detailed 2d textures. Interestingly, it's also worth tuning up the volume - the background music and sounds remind one of action games years before mobiles were invented.
The gameplay is similar to other survivor titles, with several interesting tweaks. The first one to notice is the basic melee attack according to the direction you're facing - but with the damage applied where your sword is - circling over time. The skills you'll be getting are more standard - some projectiles, explosions, auras - rather precisely targeted than mass destruction ones. Enemies - some skeletons, zombies, etc. - will spawn everywhere around, with fun even from time to time - flying mobs rushing ahead from every angle. Also, mini-bosses will show up regularly, and every 5 minutes, a boss will appear. After defeating it, you'll be able to take a key and look for a chest full of loot. It'll be mainly instantly-usable items, like heal or one of many "bomb" types. The approach to background is slightly different than usual - the battle arena is limited, and objects like trees limit your movement - not very significant, but nice detail.
After surviving for 20 minutes and killing the final boss, you'll gain access to the new area and - hopefully - lots of gold to take home. This money can be spent in several ways - starting with linear stat upgrades for your hero - a kinda basic thing. You can also purchase one of the other locked characters for a bonus boost to one type of weapon and particular skill. There's also a very simple equipment system - a book you can bring to fight for additional perks - like starting the fight with helpful ability.
The game also features a simple quest system, standardized ladders to compare your progress with others, and extreme mode for a greater challenge.
Grimnight Heroes will offer you to watch an ad from time to time - but it's not too disturbing and can be disabled with a purchase. Additionally, you can get some additional gold for a few bucks.
Last update: 12 Oct 2022 12:10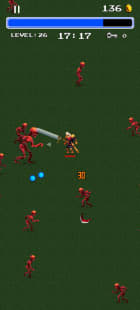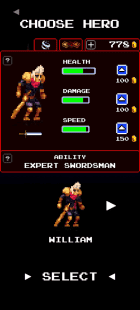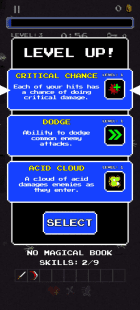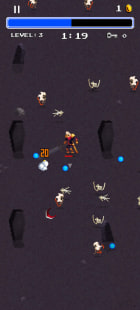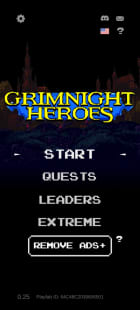 Resources
Shared by others