RPG
battle mechanics

run-and-autoshoot
show more
graphics
Theme

fantasy
graphic style

stylized
show more
monetization
ads amount

many ads
gacha / chests
forced ads
show more
gameplay
online (PVP)
bluetooth PVP
hot-seat PVP
online events
show more
details
release date

2 Sep 2021
show more
Description
Hero Adventure is an interesting mix of a casual life simulator and an RPG title. Expect lots of walking, extremely simplified controls.. and lots of kills.
The game uses somehow unique aesthetics. 3d world - both characters and the map - are stylized but somehow darker than usual. Heroes look like serious killers, not cheerful teens, and enemies aren't cute at all. Forget about green goblins or jellies jumping around - here, you'll be fighting some ugliest nightmares you can imagine. At the same time, the game is full of colorful lights & magic, bringing a unique look. Plus, all the menus are heavily stylized, with some victorian feel you won't easily find anywhere else.
The game uses super-simple casual sim controls, where 90% of the game is played on a single screen by tap&drag. When you near the enemy, you'll start to auto-attack, eventually killing the monster and receiving a given number of gems - the main currency. Then, when you approach NPC, you can spend those gems on stat upgrades or a limited idle income boost. Killing enemies will also give you some EXP, needed mainly to enter new areas with new levels. There'll be bosses, mini-bosses, and standard monsters, but they'll all just drop some gems - or random loot. Plus, entering new areas, you'll sometimes meet an NPC with a simple quest - mostly just killing something in this room.
Going to the inventory, you'll instantly feel like playing some Archero-clone. Similar slots for gears (and battle pets), equipment ranks, upgrade scrolls, fusing, etc. - even similar hero selection & upgrades.
Aside from just grinding, opening new areas, and getting new equipment, you'll be able to participate in simple PvP or join online events.
You'll be offered many rewarded ads while playing Hero Adventure - but none of them should be forced. There are also many ways to spend real money here - gacha chests, premium subscription, battle pass, etc.
Last update: game added to overtap: 25 Nov 2022 13:11
No updates seen yet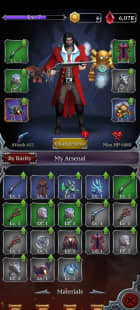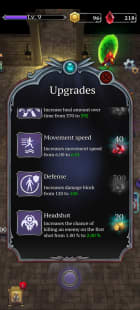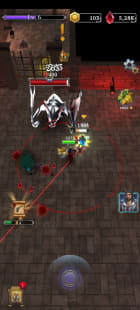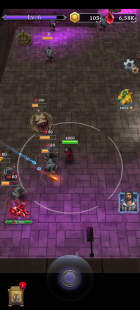 Resources
Main
Shared by others