graphics
Theme

casual
graphic style

american cartoon
camera

isometric
show more
Idle
currencies

2
restart mechanics

ascension with set bonus
merge mechanics
observation bonus
skins / costumes for characters / vehicles
collection system
show more
details
release date

16 Nov 2018
show more
Description
Homo Evolution is a simple, casual game that requires just efficient merging (and clicking) to see consecutive "evolution" steps.
As there's not much gameplay here, the vital part of the game is graphics that should make discoveries exciting. In Homo Evolution, the most essential visual element - "species" - is 2d art drawn in a funny, cartoonish way. Unsurprisingly, it starts with lizards, dinosaurs, and monkeys but quickly switches to humans. Then it goes from Adam & Eve, through some historical & contemporary figures (like "fluttering ballerina") to quirky, modern ones like "Selfie Cutie". Unfortunately, those characters aren't animated at all, and of course - aren't voiced. Backgrounds are nicely drawn too, but overall, UI seems slightly generic/random.
The core gameplay is dead simple - characters appear every few seconds, and you just need to drag&drop to merge with the same level ones, then merge further and further. After a few levels, new species will be transferred to the next area, sometimes with the possibility of selecting a path (like science vs. sports). It means dozens of characters to discover, requiring several runs to cover all routes. To do this, you can use an ascension system - transferring to a different planet, for a set bonus and a chance to start from the beginning.
The game can be played actively - by merging creatures - or you can wait for idle income (and idle missions). There's also a system for spins for random rewards and occasional click-as-fast-as-you-can events. Still, the best power-ups and bonuses are only available with premium currency (even though it's slowly obtainable for free). Aside from paying, you can watch some ads to make things faster - and there are tons of such occasions. On top of this, forced ads will frequently appear - unless you pay for a premium subscription.
Last update: 11 Aug 2022 20:08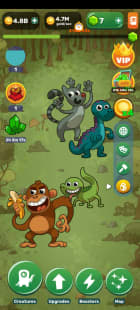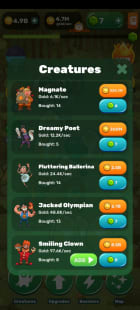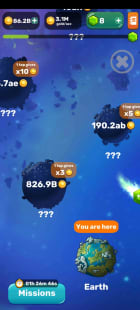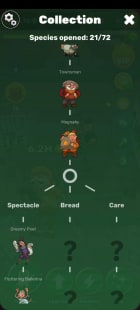 Resources
Main
Shared by others