graphics
Theme

sports
camera

isometric
graphic style

lowpoly
show more
Idle
max offline time (default)

2
restart mechanics

ascension with set bonus
currencies

2
show more
monetization
ads amount

tons of ads
gacha / chests
show more
details
Permissions count

8
release date

1 Oct 2019
show more
gameplay
playable offline
show more
max offline time (default)
Description
Idle Fitness Gym Tycoon is a free mobile theme-park-styled management game. Your role is to attach an increasing number of guests to a growing, evolving gym.
Like many idle titles nowadays, this game uses simple 3d graphics for most of the elements. From the busy road, cyclists and pedestrians turning into customers, to every room and equipment piece - everything is colorful and kind of blocky. Still, the vital part of your gym - training stations - won't stay plain and boring for too long. After several upgrades, the look changes, and it gets better every time.
Instead of simply running on a treadmill, you'll be able to run through portals, and regular weight for lifting will be replaced with gold bars or even cows. Aside from this, menu arts are highly flat and straightforward - including athletes' images, composed of just a few shapes.
Gameplay is what you might expect from the genre. When customers arrive (don't forget about the bike parking for cyclists), they need to pay to change & start exercising. Spots like running, rowing, or bench press can be upgraded in 3 ways - level up, capacity up, or time down. With enough money, new areas can be built, and after some time - the gym can be "renovated" with a new look and fixed money bonus. Additionally, you can hire "elite athletes" with enough cash, including a familiar-looking "tomb raider" girl. Those could be trained by clicking from time to time and then sent to competition to win premium currency.
Unfortunately, The game is full of ads. There's always some "VIP sponsor" with reward video waiting at the entrance, some other events requiring to view ads, not to mention teals to spend real money. You can buy more time offline, no-ads upgrade, and many powerful, permanent bonuses.
Last update: game added to overtap: 17 Oct 2021 13:10
No updates seen yet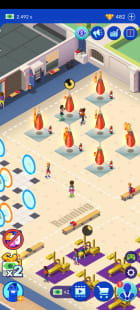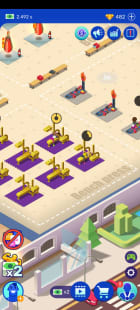 Resources
Shared by others