Idle
currencies

4
restart mechanics

none
offline gains limit

time
show more
graphics
Theme

dark fantasy
graphic style

other
camera

isometric
show more
monetization
gacha / chests
ads amount

tons of ads
show more
details
release date

24 Jun 2021
Permissions count

7
show more
technical
sign in methods (Android)

Google
show more
Description
Idle Necromancer is a promising idle mobile game in active development. It lets you summon a colossal undead army and watch it clash with the weaves of brave defenders.
This 2d game combines drawn characters and environments you'll be passing (mainly some villages) with vector art. The sprite-based zombies and skeletons aren't very detailed or smoothly animated, but they make up for in numbers. You can't ofter see dozens of creatures clashing simultaneously, at least not on mobile. Still, you won't get bored with those massive fights - fighters die bloodily and quickly, making space for successive waves.
Outside the main scene, the game uses animated, outlined vector art. You can get a better view of one of your monsters or view the necromancer himself. That's nice as new gear is fully reflected on the character, gradually turning a ragged monk into a powerful wizard.
The gameplay currently resolves around wave progress & earning 4 currencies. The most basic one - and the one easily made when idle - is nether. It can be used to both powers up monsters and unlock new species - something worth waiting for. Souls are somehow similar - they are used for powerful upgrades, including necromancer upgrades. Blood is an even more potent, earned free or purchased with money. It can be used for general gameplay upgrades or getting new gear. The rarest thing is hearts, as they can upgrade passive income.
With proper upgrades, you'll be able to progress through more and more powerful waves. It's also possible to get back to fight weaker enemies, and that can be useful to complete daily quests. The game also featured ascension mechanics at some point, but it's currently gone, awaiting new options.
The game is rather generous in terms of premium currency, which is nice. At the same time, there's a whole system of active spells, dramatically improving active play - but activated each time with an ad. Fortunately, you can just purchase the no-ads option instead.
Last update: 9 Sep 2022 03:09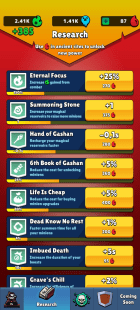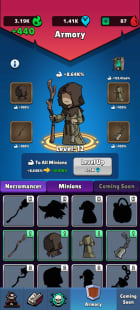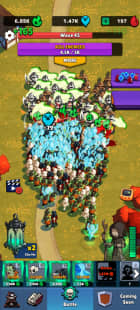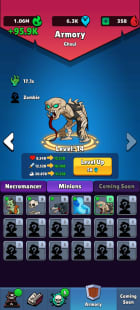 Resources
Main
Shared by others