graphics
Theme

fantasy
camera

isometric
voice acting
graphic style

prerendered 3d
show more
monetization
ads amount

many ads
pay to remove ads
show more
social
photo avatar
show more
girls
attractive girls
show more
technical
sign in methods (Android)

Guest / none, Facebook, Google
show more
RTS
troops recruiting
show more
controls
orientation

vertical
show more
Description
Kingdom Guard is a mix of a Tower Defense game with merging mechanics and MMO Real-time Strategy. TD part here isn't the core, but rather layer on top of traditional MMORTS - despite the first impressions.
Like many non-action titles nowadays, Kingdom Guard uses pre-rendered 3d models for the art. This works well for heroes/commanders - they're high quality and animated (although you cannot see them from every angle). Although the number of heroes is currently limited, you'll likely find one you'll like - among witches, knights, crazy inventors, or tribal warriors. Additionally, all of them are nicely voiced.
Those characters will be seen in both TD and map views. TD is composed of pre-rendered background elements, creating environments like jungle or desert. During fights, quickly after starting, you'll be seeing primarily explosions and damage numbers, as expected. Castle looks similar - pre-rendered, animated 3d graphics. The nice thing is that you might obtain alternate skins for it - like goblin, summer, or Christmas theme. On the other hand, the world map looks a little empty - but it's smoothly zoomable.
After you clear the first few TD stages, the gameplay is focused mainly on MMORPG features. You'll see a familiar castle layout, with the main building, tavern, tech facility, etc. Yet, base-building here is very simplified - structures are just unlocked after a given level in TD. There are almost no resources, and you can only upgrade the castle with gold and stone. The barracks are also much simpler than usually - you cannot recruit anyone there, only upgrade one of 4 unit/tower types. On the other hand, the tavern feature is like everywhere else - valuable (and rarely free) premium summon and simple summon - primarily for hero upgrade fodder.
The map is similar - features well-known from other MMORPGs, just simplified. You can search for monsters, resources, or raids - but resources types are limited to 1. You can also join an alliance and help them with raids/fortresses. Armies are simply your heroes assigned to slots, and troops appear automatically based on castle/TD levels.
On top of this, there's a TD fight going in the background all time. First, you need to buy a lowest-level tower, merge it with same-level ones to upgrade, and then put it to one of the tower slots to defend against incoming waves. Yet, with limited types of towers, a limited number of slots, and minimum level increased with castle level, this feature is just an intriguing addition and a progress gauge.
As in most MMORTS's, there are many ways to gather more resources - aside from idle "vault" income. Quests around dragon pet system, dailies, battle pass, kingdom progress rewards, and many other quests/events.
Many of those events require some type of money payments - and there's a VIP system in place, encouraging high spending. The game experience could also become much smoother with an elite subscription - providing advanced automation and removing lots of ads you'll be seeing otherwise.
Last update: 13 Oct 2022 10:10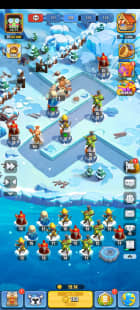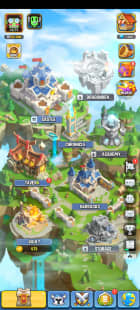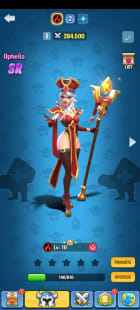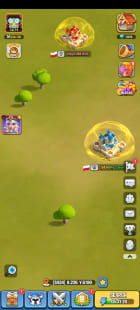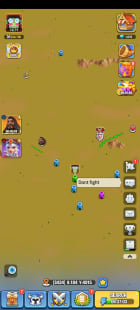 Resources
Main
Shared by others