graphics
Theme

fantasy
graphic style

stylized
camera

fixed camera (perspective)
show more
details
release date

21 Jun 2021
Permissions count

11
App size (memory used)

514
show more
gameplay
story rich
online events
show more
Puzzle Adventure
idle income

premium only
show more
controls
orientation

vertical
monetization
ads amount

little ads
show more
camera
fixed camera (perspective)
Description
Merge Master is a fantasy-themed merge-adventure mobile game. As we start from the blimp in the middle of a hostile world, we slowly move from place to place. By fulfilling merge quests, the story moves forward, dispelling evil powers and bringing the kingdom to glory.
The main game scene is a stylized 3d map, which we can easily explore from the bird's view. The fantasy world is colorful and lively, with mysterious creatures running in circles, wind blowing, and overall magic moving things. The main game screen - the merge board, is, however, 2d. There, the items are static, hand-painted images, fitting well the game theme.
Merging - and thus continuing the story - seem to follow the standard rules. There are "generators" needing taps to spawn items - like spellbook spawning spell scrolls. Then we need to merge low-level items to get higher-level ones until quest requirements are fulfilled. From time to time - usually through quest rewards - you'll get parts of generators, eventually merged to higher-level things. This happy merging is restricted by several factors - board space, energy, and timers. The latter affects both "overheating" of generators and strangely familiar timers for opening chests.
As story progress slows down over time, things are fortunately enlivened by online events. With new, unique generators, you are given several days to fulfill a series of quests following a side story. With enough perseverance, you'll be rewarded with generous gifts, permanently making progress more manageable.
As it's expected, there's premium currency and premium shop to skip some chores and complete things easily. Aside from getting actual mergeable resources of helper items, one of the primary purchases is clearly the energy, so you can keep playing. Still, it's perfectly possible to play the game for free, and there's also a tiny amount of reward ads to help with this.
Last update: 16 Aug 2022 06:08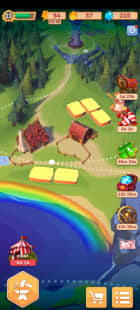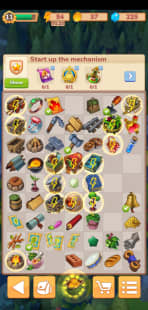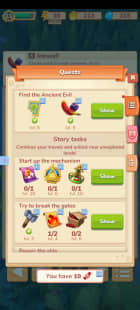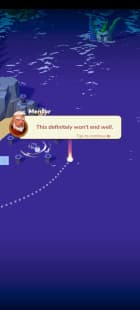 Resources
Shared by others