Survival Sandbox
team/crew system
show more
graphics
Theme

pirates
artists

Polina Pokrovskaya, Vladimir Stayukhin
graphic style

realistic
show more
social
play with friends
guilds
show more
gameplay
online leaderboard
story rich
show more
details
release date

27 Oct 2020
Minimum Android version

7
show more
technical
sign in methods (Android)

Google, Guest / none
show more
artists
Polina Pokrovskaya, Vladimir Stayukhin
Description
Mutiny: Pirate Survival is an LDOE-based sandbox survival game set in pirating world. That means, instead of fighting the undead, you'll be rowing between islands & killing other corsairs.
As it's obviously similar to other such titles, sharing many layouts and patterns, it's looking exceptionally good at the same time. While limited by the capabilities of mobile devices, the game still manages to look in a way that makes you think it's a pretty drawing rather than a 3d scene. Individual elements are stylized and detailed at the same time, giving each plank, stick & stone a unique look. Even though you'll usually be seeing things from a distance, characters, weapons & tools are also surprisingly finely crafted. What's more, atmospheric effects like rain or night make these scenes even more convincing.
While the gameplay is mostly 3d, you'll be spending much time in menus, crafting & managing things. Interestingly, both arts used there, and UI layout elements are gorgeous - from simple resources, through realistic bottles with drinks, to whole blueprints for future creations.
Your job in the Mutiny world will be similar to all LDOE clones - craft, harvest, loot, and raid. You'll start with some simple hut and a few utilities. Then, you'll need more & better ones to process rare resources into useful tools/materials. Also, dedicated storage shelves make resource management so much easier.
Aside from weapons & garments, the goal for this crafting will be creating & upgrading several special objects - including your ship. This will allow you to row further, explore new places & get new items. Yet, other ones unlock some new features of a unique crew system - a group of your helpers that can process items or even harvest things for you.
Other elements are basically the same as everywhere else. You go to another island, kill enemies (preferably sneaking from behind), gather/loot items & then go back home. Sometimes you can raid another player base - and most actions wear off some tool/garment - and you'll need food & drink. The nice feature here is a trading ship you can approach to pay some money for resources you're missing.
Mutiny lets you watch some ads for free rewards or energy - but it's not necessary to play. Instead, you can purchase some extra items, energy, or a "VIP" subscription that speeds things up significantly.
Last update: 22 Oct 2022 23:10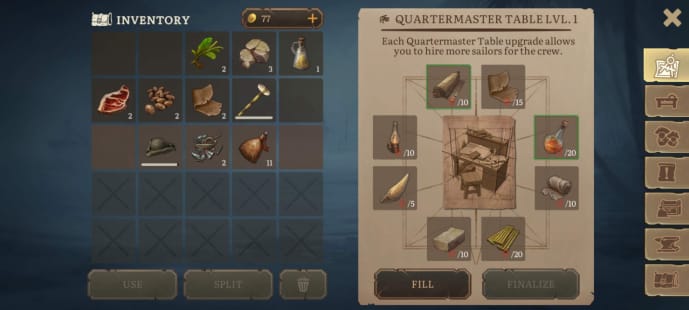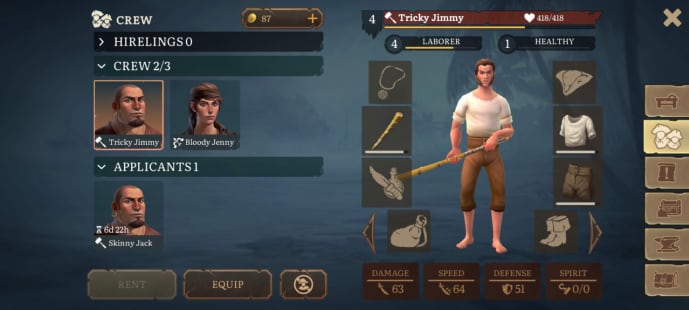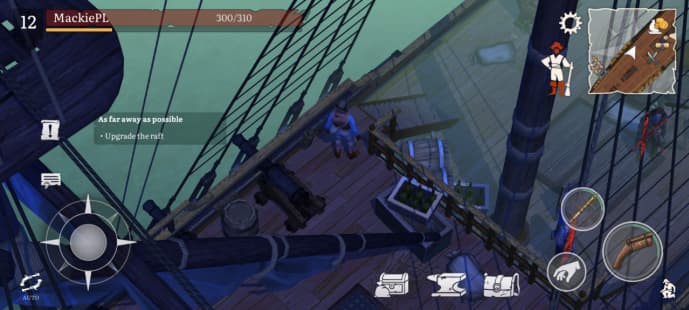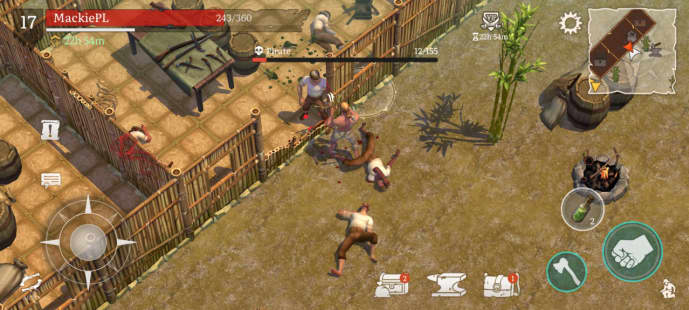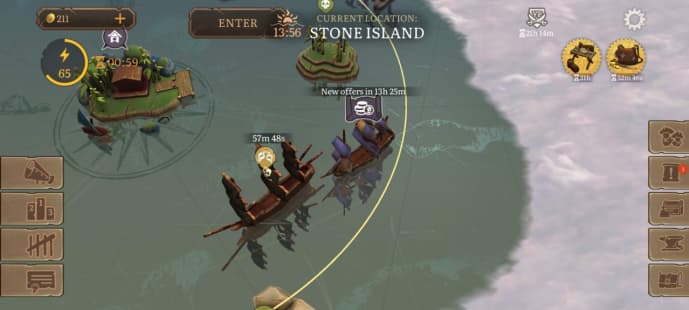 Resources
Main
Shared by others