Run-or-shoot
path choices
show more
graphics
Theme

sci-fi
camera

isometric
graphic style

stylized
show more
details
release date

28 Mar 2022
Contant rating

TEEN
show more
monetization
ads amount

many ads
gacha / chests
show more
technical
sign in methods (Android)

Google
show more
Roguelike
No of heroes

6
show more
gameplay
online leaderboard
show more
sign in methods (Android)
Description
Planet Rush is yet another run-or-shoot free game, currently available only as a preview/open beta for Android. To stand out - instead of the usual fantasy theme - it lets you shoot your way through a sci-fi world full of robots.
Graphics here are pretty solid for the genre, although typical. The 3d models look sharp and high quality, and you probably need a closer look to tell that they aren't prerendered. Unsurprisingly for this kind of game, the camera is isometric, but it doesn't make things look flat. What's more, the game plays really smoothly, even with multiple enemies being animated, many shots fired, and other SFX here and there.
In terms of gameplay, Planet Rush isn't much different from most run-or-shoot games nowadays. Adventure is split into words, with each consisting of multiple stages you need to clear to advance. As in every roguelike, every world run starts with no bonuses. You can select a skill from a randomized set with every level-up - usual things like multishot, HP upgrades, or orbiting orbs. The only innovation here is paths choice that sometimes appears - allowing you to go to an extra tricky/puzzle stage for a bonus spin.
When you win (or lose) a run, you'll get some loot to make you stronger next time. The first type of item is hero shards for unlocking and upgrading characters (although all those robots look similar). Then, there's the usual equip system with upgrades, "workbench" for merging and drones as pets. The last part is a well-known random permanent upgrades screen to spend your hard-earned coins.
Planet Rush won't show you any unwanted ads, but there are many reasons to watch reward ones. Free revives, additional skill spins, free crates, and other off-battle rewards could definitely make your progress faster. If you don't like to waste time - you can just purchase some packs in the store.
Last update: 14 Aug 2022 19:08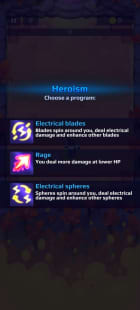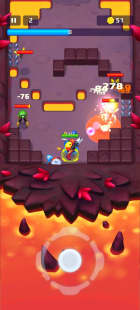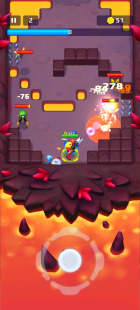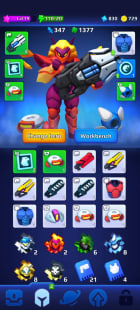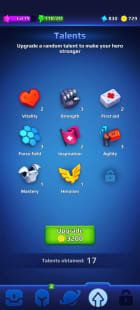 Resources
Shared by others